Today is probably the fullest homeschool day we've had a in a long time – but the cool thing was, we were really into it (we didn't feel forced or on a tight schedule), so it ended up being a lot of fun.
Here's how we started our day.
First, I got BabyZ (who is quickly approaching the stage where I can drop the "Baby" from her online code name, I might add) started on a little math center project from this book:
This was a basic color sorting activity. She colors the "color mat" (four ovals, four different colors):
Then she colors little flash cards – some sheets are insects, others ladybugs, others flowers, etc. I give her directions like "color these insects green" – but because I know she gets super happy with crayons and I want to focus on her learning to follow directions exactly, I don't give her a choice of crayons– I only give her a green crayon. And so forth for each page and color.
In the end, we have a sorting activity (yellow on yellow, blue on blue, etc.). I thought this was a fun project, overall. We can just keep it in a file folder for next time we want to sort colors.
To see what some other TotSchool participants are up to, don't forget to stop by and visit them: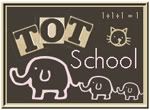 While BabyZ works on her color sorting, NyGirl learns about the multiplication tables with this free online math video. I also did a quick review on the Countdown Chicago Gear Up Alliance (the site that offers all the free math video lessons) on my Techie Homeschoolers site, so check that out when you get a chance.
Right after her video, we practiced more of our multiplication tables using her math folder I made for her last month.
Basically, to make her folder I didn't use any particular curriculum, per se…just a hodge podge of resources. For example, I photocopied some sheets from this math workbook (which I highly recommend for multiplication practice!):
I used those glossy sheet protectors and slipped the multiplication practice sheets in there. We use a dry erase marker with them and wipe clean at the end.
In the folder pockets I place her fact cards from Saxon. So, if we're working on the 3's that week, I slip the 3's cards into the pocket and she knows to take them out and review them at the beginning of our math session before we work on the worksheets.
At the end of our math session, sometimes we have time to introduce the next Saxon lesson, and sometimes we don't. At this point, I'm not too concerned with speeding through the book. I want to get our foundation of times tables down pat first, then we can move along. I'm also finding we have more fun with math when we take a different approach to it each day. Sometimes videos help, sometimes our math folder center, sometimes math games.
By the way, I get my math game ideas from this book.
Then we headed outside. Couldn't help it- it's the first day of September and the morning weather was BEAUTIFUL!! Since we have been studying plants anyway, may as well take it outside now the heat is not scorching us. We picked a few peas, then sat down on a blanket and worked on a booklet about plants and how they grow.
I also used this book as a standby resource to jumpstart discussion ideas:
The other cool thing is that in this book, there is a website linked up to it…so of course once we came in, NyGirl wanted to play on the online science games. Good thing is – it's free!
Lastly, she listened to Black Beauty (which we downloaded from our public library)…and in my next post I'll have to share with you how I am creating character development bible lessons for her.
Overall, a VERY good day.